Professor Emilio Chuvieco, one of Spain's leading earth observation researchers, and a prominent contributor to ESA's Climate Change Initiative, is to be presented with an award from the prestigious Rei Jaume I Foundation by the King of Spain on 25 November 2022 for contributions to environmental protection.
Professor Chuvieco of the University of Alcalá was selected by the Foundation's 100 strong jury - which includes 21 Nobel prize winners - in recognition of his research using satellite-based observations to understand the role that forest fires play in the global climate system.
Created in 1989, the Foundation's annual awards aim to promote research, scientific development and entrepreneurship in Spain, with King Felipe VI as its honorary president. The awards cover six categories: environmental protection, basic research, medicine, economics, entrepreneurship and new technologies. Each winner is presented with a diploma and a 100,000 euro prize to further their work.
In a warming world, the intensity and severity of wildfires is increasing, while the length of the fire season is extending. Such changes could potentially increase emissions of greenhouse gases and aerosols to the atmosphere, and as a consequence impact on the climate system.
Along with colleagues, Prof. Chuvieco has dedicated his career to developing decades-long, global scale satellite records of fire disturbance. Stretching back to 1982, these observation time series enable scientists to detect trends and support the development of models used to predict future change. These data are produced as part of ESA's Climate Change Initiative, a significant R&D effort that is developing a suite of long term data records for key aspects of the climate system. Allow with fire records, these data support the UNFCCC, contribute to scientific assessments of the climate and are used by and extended in time in an operational context by the Copernicus Climate Change Service.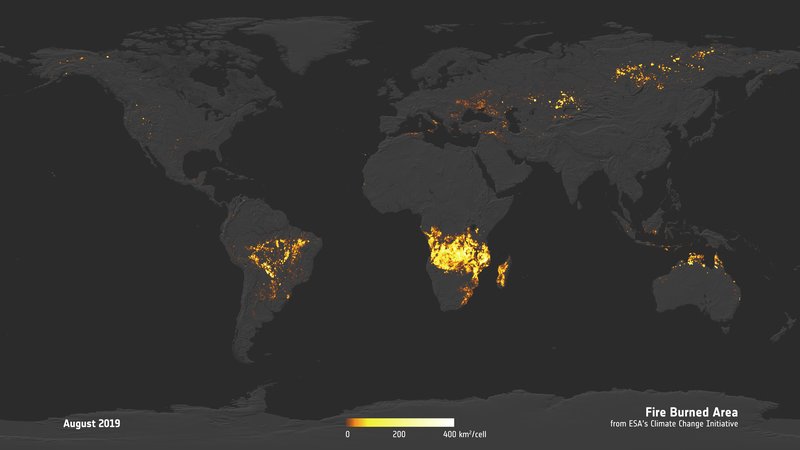 In recent years, Prof Chuvieco has spearheaded dramatic advances in burned area detection from space, and incorporating the use of artificial intelligence and the latest generation of European satellites, Copernicus Sentinel-2 and -3.
The significant contribution of smaller fires - covering less than 100 hectares - to burned area and fire carbon emissions has been illustrated across Africa, where over 70% of wildfires globally occur, while use of Sentinel-3 observations estimated global burned area at almost 5 million km2 for the year 2019, with detection rates improving 28%, compared to the current global Fire_cci product. Worringly, his latest research, set to be published later this year indicates that the contribution of fire to deforestation in Africa is also more significant that previously thought.
Susanne Mecklenburg, head of the ESA Climate Office adds, "Several extreme heat warnings have been issued across western Europe this summer, including Spain. But it is the long term observation record that provides the insight into changing patterns and trends that are necessary to formulate plans and actions address and adapt to a warming world."