The University of Oxford is establishing a new Centre for Doctoral Training (CDT) focussed on artificial intelligence (AI), machine learning, Big Data, and environmental sciences. Over an initial eight years, the UKRI AI Centre for Doctoral Training in AI for the Environment (The Intelligent Earth Centre) will train almost 100 PhD students to develop and apply cutting-edge AI technologies to tackle urgent environmental crises.
Addressing a skills gap between AI and environmental science
The CDT, called The Intelligent Earth Centre, will address skills gaps and bring data and environmental sciences closer together by delivering a multidisciplinary training programme.
The establishment of this new and innovative CDT provides is welcomed by the ESA Climate Office, which is well placed to offer advice, support and facilitate access to Earth observation data, including a suite of key global climate satellite-derived datasets developed as part of the ESA Climate Change Initiative) which are used to inform both the UNFCCC and the wider science community.
AI and machine learning over recent decades offer the potential to revolutionise environmental research and provide novel solutions to address Earth's environmental crises – from climate change. Illustrating this, researchers have recently applied techniques in combination with Copernicus Sentinel mission data to detect, pinpoint and quantify industrial methane super-emitters. With plumes estimated to be equivalent to the annual greenhouse gas emissions of the Netherlands, addressing these leaks is seen as an easy to fix, low-hanging fruit way to cut emissions of this key heat trapping gas.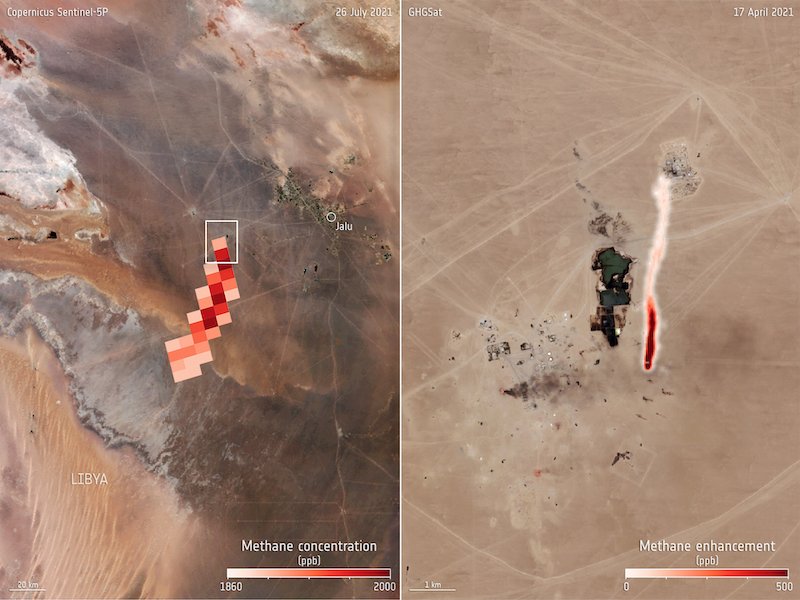 An interdisciplinary initiative
The Intelligent Earth Centre will be intrinsically interdisciplinary, delivering tailored training in both environmental science and data science, and facilitating ambitious, intersectoral projects. Following a rigorous taught programme covering AI tools, frameworks, and environmental datasets, students will work in interdisciplinary groups to tackle grand challenges in environmental science with increasing complexity. Such applications of AI could include next generation climate models that run at a fraction of the computational cost and environmental footprint, automated tracking of biodiversity loss and unregulated pollution sources from space, or rapid alert systems for environmental disasters.
Professor Stier added: 'Not only will The Intelligent Earth Centre provide highly qualified graduates for a wide range of industries, but we also expect our own students to drive innovation and found their own start-ups, supported by the programme's dedicated training in enterprise, impact, and responsible AI.'
Professor Philip Stier (Department of Physics), Director for The Intelligent Earth Centre, said: 'Traditional, siloed training in environmental and data science has created a bottleneck for UK leadership in science, innovation, and entrepreneurship in this emergent space. Hence, The Intelligent Earth Centre will meet the urgent need for interdisciplinary training at the interface between the environment and AI.'
The new centre has been funded by a major £12 million grant from UKRI, with additional funding from the University of Oxford and a wide range of partners, including IBM, Google, DeepMind, the European Space Agency, Planet, the Met Office, the Frontier Development Lab, and the Satellite Applications Catapult. These partners will host the Centre's students for placements, enabling them to develop their skills further.
Environmental innovation
As well as supporting climate science machine learning and AI approaches are also exploited by ESA's innovation-focussed Φ-lab, which connects partners from industry, national and international organisations and the third sector through its AI4EO initiative.
According to Susanne Mecklenburg, "The ESA Climate Office is looking forward to deepening collaborations with Oxford University via this new CDT. Assisting in the area of Earth observation and climate data we hope to play a role helping students develop the skills needed to accelerate and improve scientific understanding and solutions to tackle future climate.'
More information can be found on The Intelligent Earth Centre website.