The impact of climate change on lakes came into sharp focus recently following a recent satellite-based assessment of nearly 2,000 lakes, that show water losses from the world's largest lakes over the past three decades was more widespread than previously thought.
The study, published in the journal Science, finds that a warming climate and human water consumption are the main contributors of a rapid decline in the lake levels around the world - with implications for millions of people.
Jean-Francois Crétaux, a co-author of the study is also one of the science leaders for the ESA Climate Change Initiative's Lake project team which is developing and validating a consistent data set of the variables to address the lakes Essential Climate Variable.
Using observations derived from multiple satellite missions this project is generating data for over 2,000 inland water bodies between 1992-2020.
A basket of variables are under investigation including Lake Water level to understand the balance between water inputs and water loss in addition to five other variables that focus on lake understand biogeochemical processes, seasonality and thermodynamics:
Lake Water Extent
Lake Surface Water temperature
Lake Ice
Lake Ice
Lake Water-Leaving Reflectance
As with all CCI data products, the Lakes project datasets are research-ready and have fully characterised uncertainties and are validated using independent, traceable, in-situ measurement.
Exploring satellite-derived lakes climate data
To access and explore the Researchers can access, explore, download and analyse the Lakes_cci datasets in the following ways:
CCI Open Data Portal
To access the full global datasets and lake masks with the maximum extent. These data can be downloaded using multiple download mechanisms and ways to extract a set of variables, or data for a specific region lakes_cci v2.0.2.
This option is most useful for large data requests.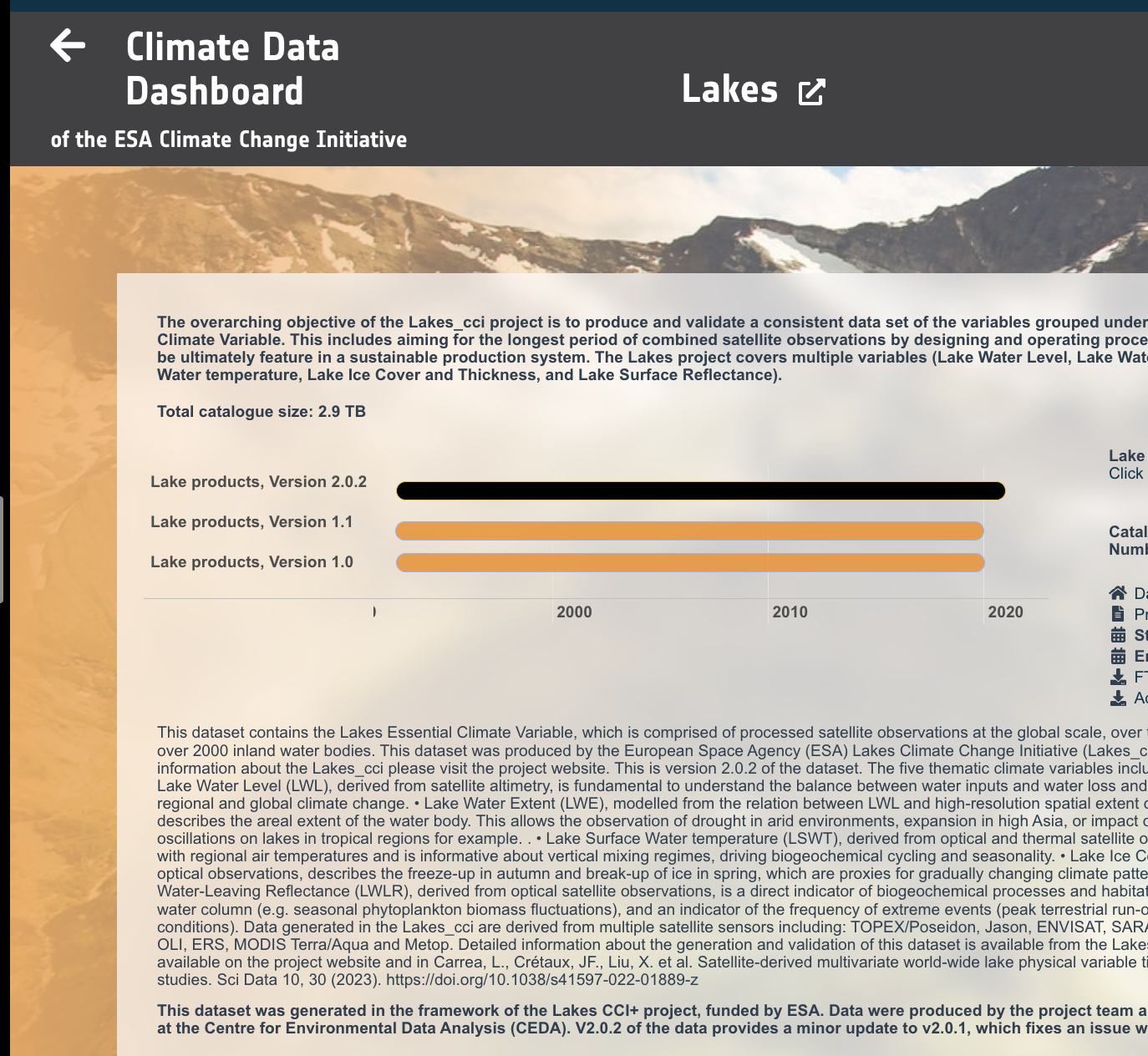 Python Scripts and Jupyter Notebooks
A series of scripts and notebooks are freely available and intended to help new users familiarise themselves with data extraction for further analysis: project code repository.
Interactive visualisation
Using WebGIS you can view of most of the Lake_cci variables and extract small sections of the data for download or plotting. This is also a useful resource for training and education, e.g. by sharing links to your visualisation with others: https://lakescci.eofrom.space/