A new set of school learning resources using Earth orbiting satellites are available to teachers wanting to encourage the next generation of climate pioneers.
Developed as part of the ESA's Climate Change Initiative, the series of 6 lesson plans use the context of climate change to support teaching across Science, Technology, Engineering and Maths at both primary and secondary school level and add to ESA's portfolio of space-powered climate learning materials
The resources aim to raise awareness of planetary changes taking place, while highlighting the role satellites play in understanding environmental change on the run up to COP26, the United Nations climate change talks to be hosted in Glasgow, UK this November.
Each teaching pack contain a comprehensive teacher guide and student worksheets that explore the major aspects of the climate system – including the rapid changes taking place across the Arctic and rising sea levels - and the satellite technologies used to 'take the pulse of the planet'.
Explore the Climate from Space
Lessons include practical experiments but uniquely, they are complemented with an app that gives teachers and students the opportunity to visualise and explore how key aspects of the planet's climate are changing via ESA's Climate from Space web app.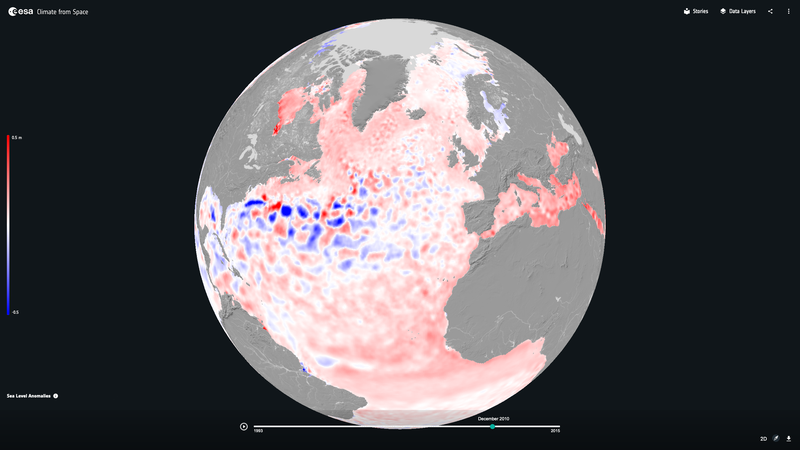 The free online app can be accessed via computer, tablet or mobile. Using interactive 3D globes and maps students have easy access to the global satellite data that are used by scientists and governments to understand and anticipate climate change, then apply learning in the classroom via experiments, quizzes discussions and other activities.
Climate change education
ESA's classroom materials have been included as are part of the Climate Change Educational Partnership, (CCEP) an initiative that brings together people working in education, research, science, technology, engineering and maths to develop climate education resources that are based on scientific evidence.
Initiated by educational body STEM Learning, the partnership involves several other organisations that are committed to tackling climate change, including the Met Office, the Royal Society, Research Councils UK, the Grantham Institute and the UK Space Agency.
The school-focussed climate resource will be translated into German, French, Spanish and Dutch later this year.
The CCEP includes other climate learning activities from ESA including its Climate Detectives school project, which challenges pupils to investigate climate issues and propose ways to monitor or mitigate them. The project is implemented by the UK space education office (ESERO-UK) and funded by ESA and the UK Space Agency.