By bringing world governments together, the 26th United Nations Climate Change conference also known as COP26, aims to accelerate action towards the goals of the Paris Agreement. During the 12-day, Glasgow-based summit, ESA is highlighting the crucial role Earth observation satellites play in understanding the evolving climate and supporting effective action.
Involving intense international negotiations, COP26 is focussed on agreeing future reductions in greenhouse gas emissions to limit global temperature rise set out in the Paris Agreement - to well below 2ºC above pre-industrial levels, and ideally 1.5ºC. Observations from space are vital to this process.
Observations from space
Earth observing satellites provide global coverage and monitor many important changes taking place across our planet. These range from greenhouse gas levels, retreating glaciers and rising sea level to the rate and pattern of deforestation and wildfire on land.
By combining data collected by multiple satellites over the past five decades, ESA's Climate Change Initiative is generating the long-term global records that scientists require to identify trends and develop and test the models used to predict future climate change and inform national and international climate policies.
Already scientists are observing changes in every region and across the whole climate system, according to the latest Intergovernmental Panel on Climate Change (IPCC) Report. Satellite data records generated by ESA's Climate Change Initiative support many of the report's key findings.
For example, satellite records and CCI research reveal that Arctic sea ice continues its long-term decline, with models suggesting the region will be practically 'ice free, by the summer of 2050. The world's glaciers are found to be in near synchronous retreat, and are losing ice at an accelerated rate since the 1990s. A similar trend is observed across the Greenland and Antarctica ice sheets, with meltwaters from both sources of land ice contributing to rising global mean sea level.
Climate from Space: Explore & Learn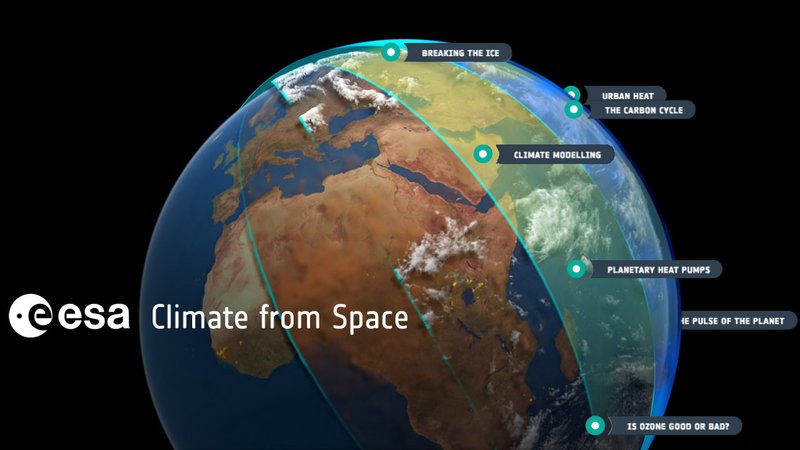 ESA is taking part in the COP26 public exhibition located in the Glasgow Science Centre from 1-12 November, where visitors will be able to view and learn how we monitor the changes taking place across the planet via interactive animated globes and ESA's new Climate from Space web app (https://cfs.climate.esa.int).
The app is free and can be used on phones, tablets and desktops.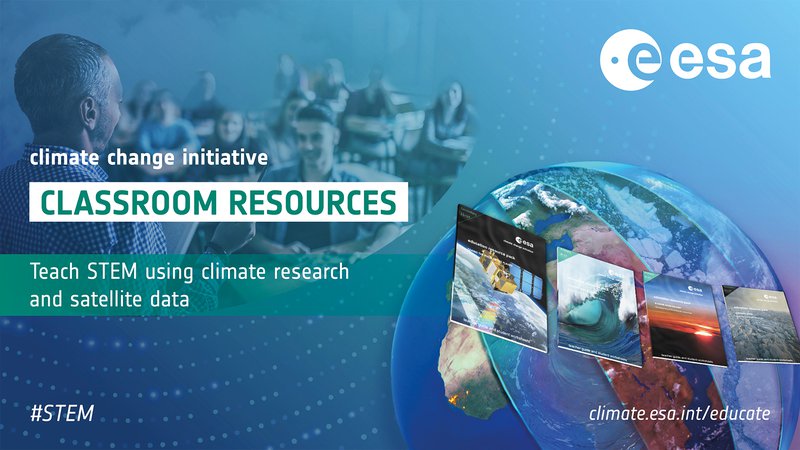 The app is complemented by 10 climate-based classroom lesson plans that aim to support primary and secondary teachers deliver key aspects of the STEM curricula. As well as practical activities and experiments, each lesson plan integrates the use of free Climate from Space app, allowing students to deepen understanding by interacting with rotating 3D globes of the planet.
Streamed climate talks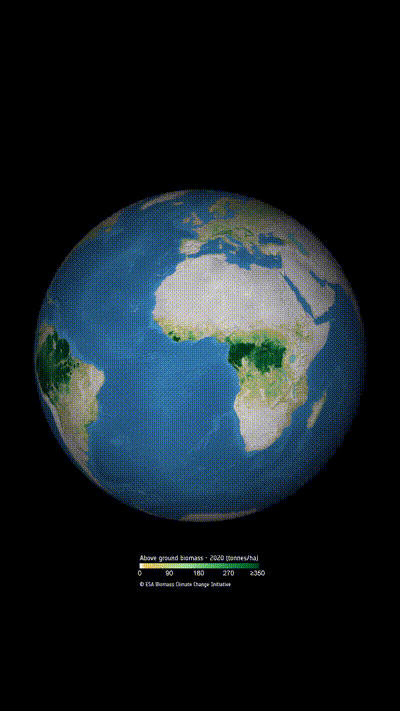 If you are unable to visit COP26 in person, a range of interested talks being streamed on the COP26 youtube channel. For example, on 6 Nov at14:00 GMT, researchers working with ESA are taking part in a presentation, entitled 'Monitoring the lungs of the world from space – what satellites reveal about carbon storage in the forests of the Earth'. Forests form a globally significant store of carbon-rich biomass, and can help slow global warming by removing carbon dioxide from the atmosphere when they grow. The talk explains and highlights how space technology is providing ever more detailed information to support carbon reduction policy and decisions.
Extreme hangouts
The ESA Climate Office is also partnering with youth-focussed hub, EXTREME which aims to give youth a voice at #COP26 and the chance to share their vision of a green sustainable future. The event is streamed from 1-11 November https://www.extremehangoutevents.com/live-stream
On Thursday 7th November, explorer and Antarctic kite surfer, Justin Packham, is joined by cryosphere and satellite scientists to discuss the beauty and changes taking place across the world's southern Polar ice sheet.
The COP26 premiere of ESA's new 15-minute documentary, featuring astronaut Luca Parmitano, shows how one of the Alps' largest glaciers is being affected by rising global temperatures.
ESA Young Graduate Trainee and Team GB synchronised swimmer, Amy Campbell, will be discussing the impact of climate on health and how she is using satellite data to investigate future changes in water-borne diseases such as Cholera.
Follow us during COP26
For updates follow ESA Climate Office on twitter @esaclimate and @ESA_EO and our other social media channels.