Key indicators of the changing climate reached record highs during 2022 according to the latest State of the Climate report in September.
Published annually in the Bulletin of the American Meteorological Society (BAMS), the report provides an update on Earth's climate notable weather events based on environmental monitoring stations and instruments on land, water, ice, and also observations from Space.
Weather patterns were heavily influenced by regional climate phenomena – La Niña, the India Dipole and North Atlantic Oscillation – during the year but the report is remarkable for the number of new records set for key indicators for Essential Climate Variables. For example, greenhouse gas concentrations, global sea level and ocean heat content reached record highs in 2022, according to the 33rd edition of the BAMS report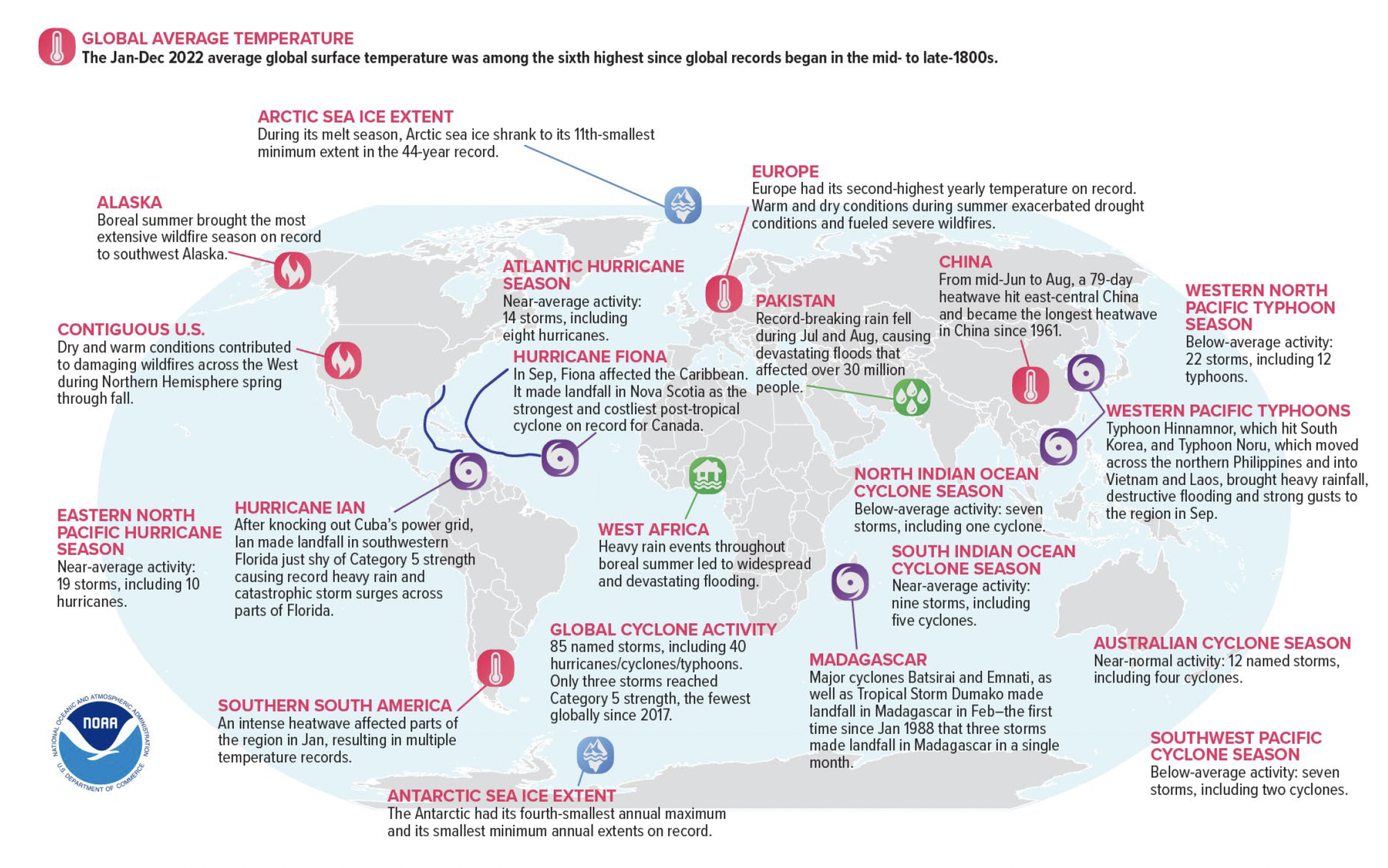 Main findings
Record GHG concentrations
Atmospheric concentrations of the three dominant greenhouse gases – carbon dioxide, methane and nitrous oxide – reached record highs in 2022. Levels of carbon dioxide reached a global average of 417.1 ppm – 2.4 ppm higher than in 2021; methane rose 165% pre-industrial concentrations, while nitrous oxide in 2022 rose by 1.3 ppb, in line with the rate from the previous two years.
Warming trends
The year 2022 was the sixth warmest year since records began in the mid-1800s, with annual global surface temperatures 0.25-0.3 degree C above the 1992-2020 average. This is despite prevailing La Niña conditions – which tend to have a cooling effect compared to the neutral or El Niño phase of the El Nino-Southern Oscillation (ENSO).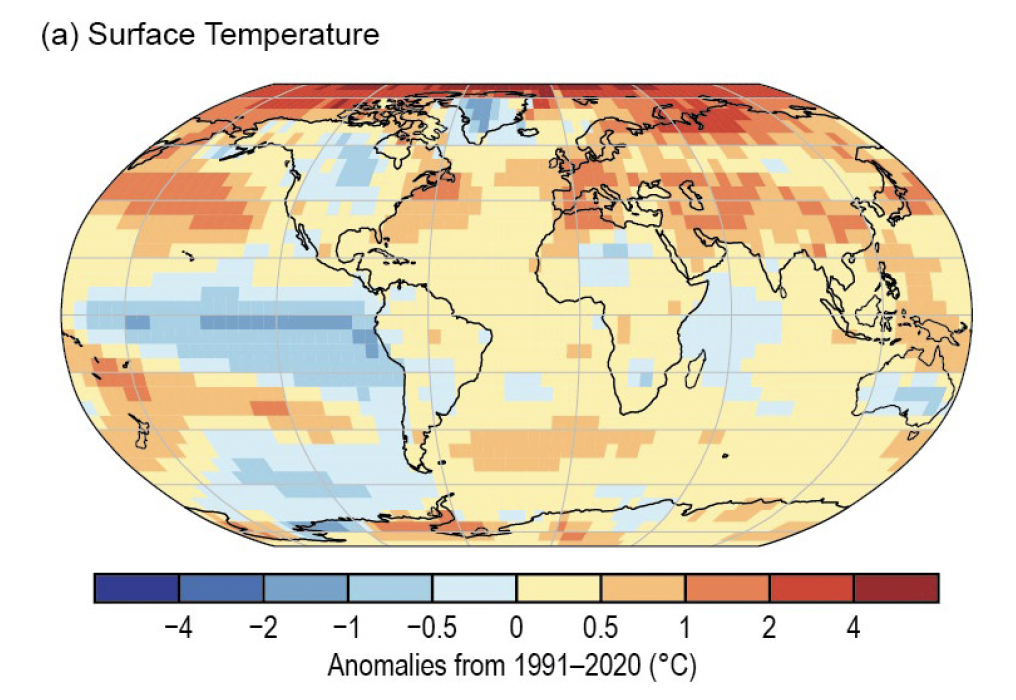 Record ocean heat and sea level
Global ocean heat content, measured to a depth of 2,000 metres using floating buoys, reached new record highs in 2022. Global mean sea level meanwhile continued to rise to a record for the 11th-consecutive year, reaching 101.2 mm above the 1993 average - the year when satellite altimetry measurements began.
Other notable observations were highlighted in the report: heatwaves shattered temperature records in several regions; Arctic temperature anomalies were higher than the global mean, adding evidence to the process known as Arctic amplification; drought was also cited as serious in the year with 29% of the land area experiencing moderate to severe conditions.
The ESA Climate Change Initiative's contribution
The report again draws on a several satellite-based data records of Essential Climate Variables that are generated as part of the ESA Climate Change Initiative (CCI). Inclusion of these records reflects the value of long-term and independent observationsfrom space in providing the evidence for key aspects of the global climate.
Lake surface water temperature rise
Worldwide averaged satel­lite-derived lake surface water temperature (LSWT) reached the second-highest warm-season anomaly since records began, with a +0.33 degree C warm-season anomaly with respect to the 1995–2020 baseline.
This observation was derived from data provided by ESA's CCI Lakes project, which provides details for a basket of variables lake extent, water level, ice cover, ice thickness and water leaving reflectance) from 1992 to 2020 for over 2000 globally distributed lakes.
Average temperature anomalies were found to be positive for 70% of the 1951 globally distributed lakes with the authors noting large regions of coherently high LSWT anomalies during the year, with 40% of the observed lakes experiencing LSWT anomalies in excess of +0.5 degree C according to the report author.
The findings are in line with previous model-based studies which suggest a rise in lake temperatures and lake heatwaves in response to rising anthropogenic greenhouse gas concentrations.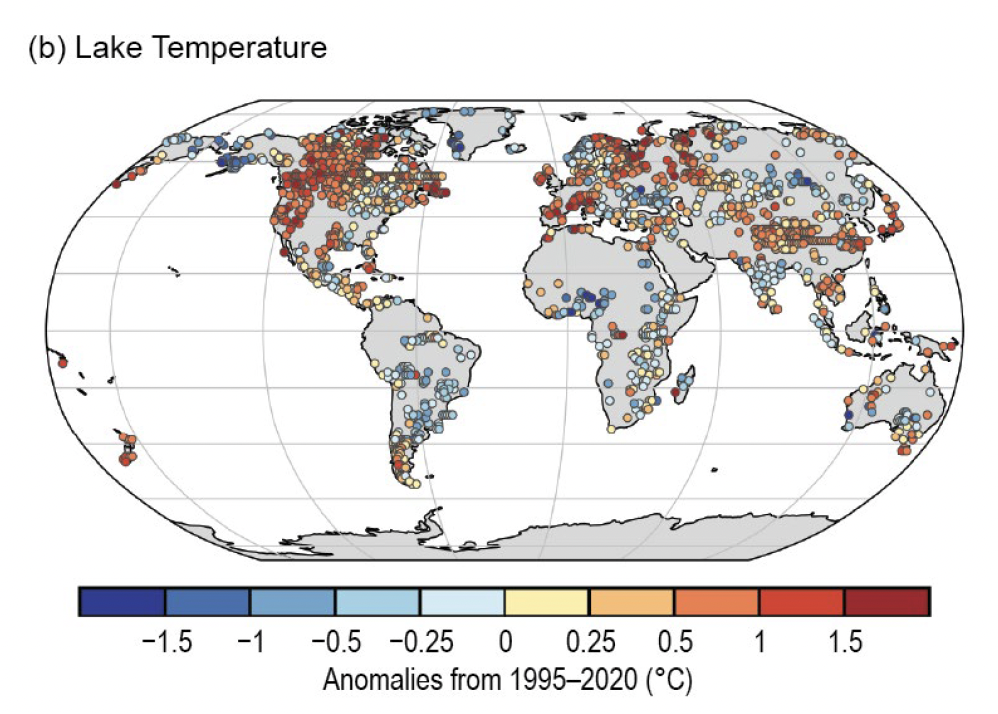 Soil moisture
Compared to other parts of the hydrological system, the volume of water involved in soil moisture is small, however, its role in weather patterns is significant in heat and water exchange between the land and atmosphere, hence its inclusion as one of 55 GCOS-defined Essential Climate Variables.
The report uses satellite soil moisture observations from the Copernicus Climate Change Service (C3S) Climate Data Store (CDS): Soil moisture gridded data from 1978 to present, which is built on R&D from the ESA CCI Soil Moisture project. A new and enhanced product (version 8.01) was released by the CCI Soil Moisture project in September 2023 and incorporates the latest technical improvements to the algorithm.
While on average 2022 recorded wetter-than-normal soil moisture conditions with respect to the average over 1978-2022, dry conditions were dominant during the summer in Europe, according to the BAMS report. This drying trend during summer, compounded with particularly hot temperatures exacerbated drought conditions and fuelled several fire events.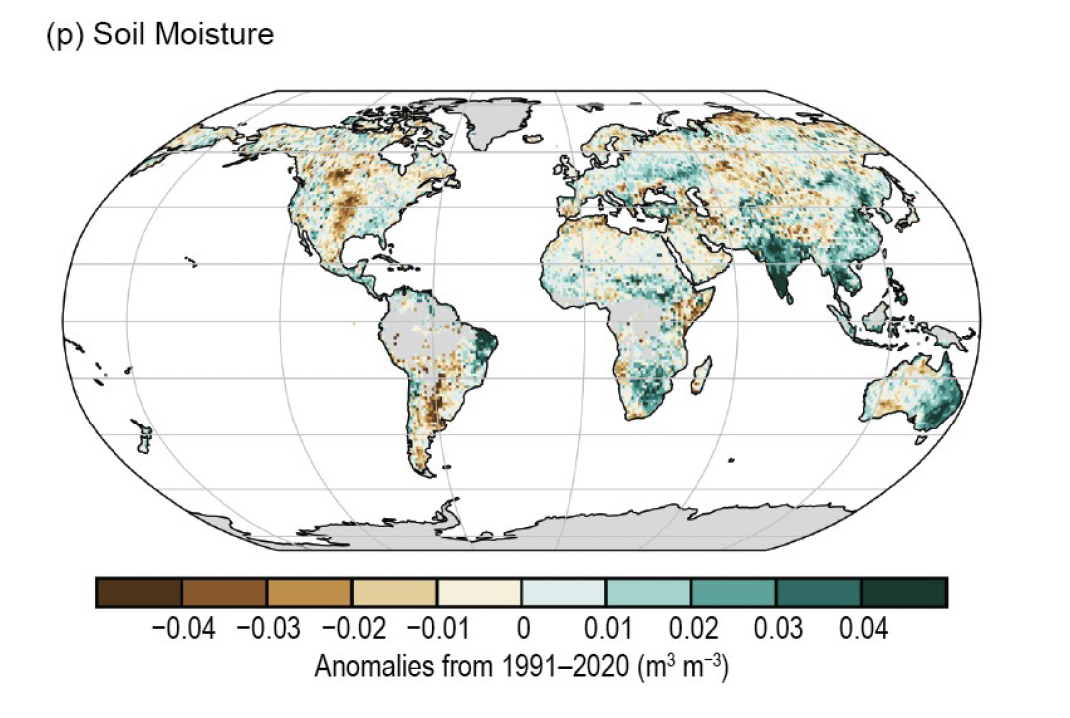 Permafrost: Rock Glacier Kinematics
This new associated product to the permafrost Essential Climate Variable by the Global Climate Observing System (GCOS 2022a,b) in 2021, with data included in the latest BAMS report. Rock glaciers refer to the debris landforms generated by the creep of frozen ground (permafrost). Their surface movement if sensitive to ground temperatures and, by extension, to climate change.
Long term rock glacier velocities have been increasing since the 1950s, with large regional and inter-annual variability. ESA's CCI Permafrost project is developing products to reconstruct changes in velocity using optical and satellite observations and complied a time series for Central Asian rock glaciers featured in the BAMS report. The general trend for this region is consistent with increasing air temperatures and with the accelera­tion reported in the European Alps and Dry Andes.
Ozone
Stratospheric ozone, which shields Earth from harmful UV radiation, has shown a continuous decline trend observed before the mid-1990s. Although recent publications suggest that in some regions this is slowly recovering, due to reduced Ozone Depleting Substances in the atmosphere, 2022 annual mean time series of total ozone reveal particularly striking low values in the Southern Hemisphere (GTO from the ESA CCI/DLR dataset), which are close to the all-time low of the previous sixty years.
ESA Climate Change Initiative data
To view and access ESA's data records, which contain pre-operational and technically most advanced algorithms for a suite of Essential Climate Variables visit climate.esa.int/data.