A new global data series that enables scientists to explore the impact of the climate crisis on the world's lakes has been released - coinciding with the UN World Water Day, 22 March.
The updated climate data record now covers some 2000 lakes across the world – a big increase on the 250 lakes included in the previous dataset up significantly from 250 lakes – with the variables being available for the period of 1992-2020. The dataset draws on information delivered by numerous international Earth observation missions.
Produced as part of ESA's Climate Change Initiative (CCI), a programme that transforms satellite data into robust, long-term global datasets for key indicators of climate change known as essential climate variables, the newly released dataset will help to ensure that satellite-derived information continues to make strong contributions to global assessments of climate change.
Lakes have huge economic and environmental significance, supplying freshwater for human consumption, agriculture, and power generation, as well as hosting thriving ecosystems that support a diverse range of species.
As well as being heavily impacted by the evolving environment, lakes play an important role in local and global climate regulation, by acting as heat sinks in the warmer summer months and heat sources during the winter, for instance.
As a result, understanding the behaviour of lakes is essential to facilitate sustainable water management, as well as climate change monitoring and mitigation efforts.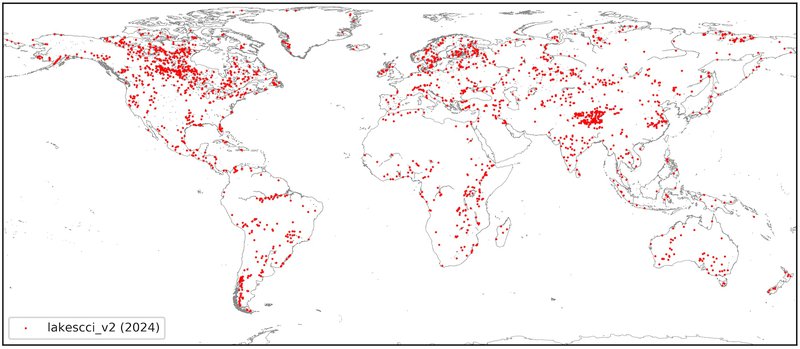 Through the CCI's lakes project, remote sensing experts are continuously improving a data series that includes five key variables related to inland water bodies.
The newly released package includes information on lake water level, lake water extent, water surface temperature, lake ice cover and water-leaving reflectance, which can be used to derive key information such as seasonal phytoplankton growth.
A global analysis of the effect of climate on lakes – which drew on data from the CCI's lakes project – was recently included in the UN's Intergovernmental Panel on Climate Change Working Group 2 report on impact, adaptation and vulnerability.
The CCI's lakes project is carried out by a consortium of 13 representatives from eight ESA member states.
Satellite observations allow for a regional to global assessment of lake responses to a changing climate