The CCI Climate Analysis Toolbox (Cate) is a cloud-enabled computing environment for analysing, processing and visualising all ESA Climate Change Initiative datasets. Cate works by mashing ECV data and other data sources into a common data model. Users operate on this model, then analyse, process, and visualise the results.
Software
Cate comprises various user interfaces:
App – graphical user interface (GUI) that runs in all modern internet browsers.
Command-line tool – used to access and process ESA climate data through a command shell. Use it to write your own batch scripts.
Python API – allows you to use Cate in your own Python programmes and make up new functions for Cate.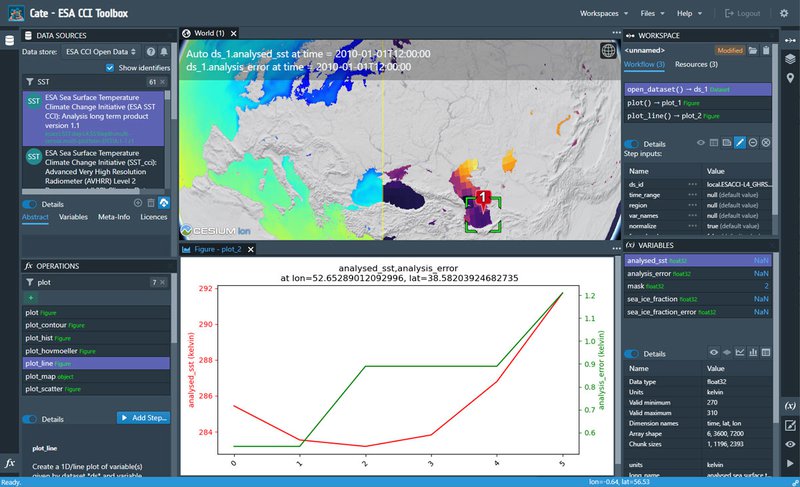 Cate can be used in two ways: (1) as a service provided through ESA or (2) in standalone mode on your own computer. The Software as a service (SaaS) can be found here. It is currently made available to testers only, while the user experience is being improved.
In standalone mode, Cate can be installed as a Python package in the Conda package repository. Since it is completely open source, Cate can be installed from Cate's GitHub repository.
Documentation
The Toolbox documentation includes a Quick Start to help you get going with the Command Line Interface and a User Manual that describes each of the user interfaces. It also comprises technical details such as an Architecture Description and API Reference.
Data
Cate reads the CCI ECV datasets directly from the Open Data Portal. You can also open your own data sources such as NetCDF files and ESRI shapefiles.
Feedback
We rely on your feedback! Consider reporting trouble, bugs and feature requests in the Toolbox Issue Tracker. Alternatively, let us know what you think of your Cate experience by completing the user survey or return feedback through the online Helpdesk form. We're listening.